Avizor Moisture Drops Unidose to relieve symptoms of ocular irritations, dryness or tiredness. Compatible with contact lenses.
Its special formula contains Sodium Hyaluronate, a natural substance present in the eye, that forms a uniform and protective shield with a great water absorption capacity and ressistant to evaporation. The moister drops provide your eyes with an excellent hydration thus improving visual comfort and lens wear. 
Use Avizor Moisture Drops to lubricate and rewet soft and rigid contact lenses as well as to cushion lenses prior to application.
Directions: Wash your hands with soap and water. To lubricate and rewet lenses: apply 1 to 2 drops to each eye as needed, or as directed by your eye care practitioner. Blink several times. For extra comfort: Place 1 or 2 drops of Avizor Moisture Drops Unidose on each side of each lens before application. 
Warnings: If you are allergic to any ingredient in this product, Do Not Use. 
See package insert for additional and important safety information.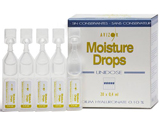 New Packaging