ZEISS Contact Day 1
Contact lens replacement system
ZEISS Contact Day 1 Easy Wear is a high-quality daily lens for spherical corrections .The Contact Day 1 Easy Wear is made for sporadic lens wearers and is characterised by the excellent comfort and visual acuity without any care expenditure.
This is the reason why Contact Day 1 has established as a popular lens for regular wearer without using care products.
The geometry of the Contact Day 1 Easy Wear is characterized by an aspherical front and back surface and an extra slim edge design, whereby a very good centring is reached.
Design and material properties make the handling of the Contact Day 1 very simple- also for untrained lens wearers.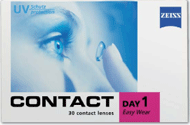 spheric

 Application

 Daily lens

 Material

 Methafilcon A

 Water content

 55%

 Dk/t

 24 * 10 -9

 Base curve

 8,6

 Power range:

  0.50 up to - 6.00(0.25)

-6.50 up to -9.00(0.50)

 Diameter

 14,2 mm

 Central thickness

 0,08 mm

 Manufacturing method

 Cast moulding

 Packaging

 5 lenses
 30 Box