The KeraSoft™ fitting system is straight forward, and similar to conventional soft lens techniques.
The back curves are expressed in Series form (Series A,B,C,D) due to the aspheric nature of the curves.Series A has the steepest base curve and a greater rate of flattening than the successive series.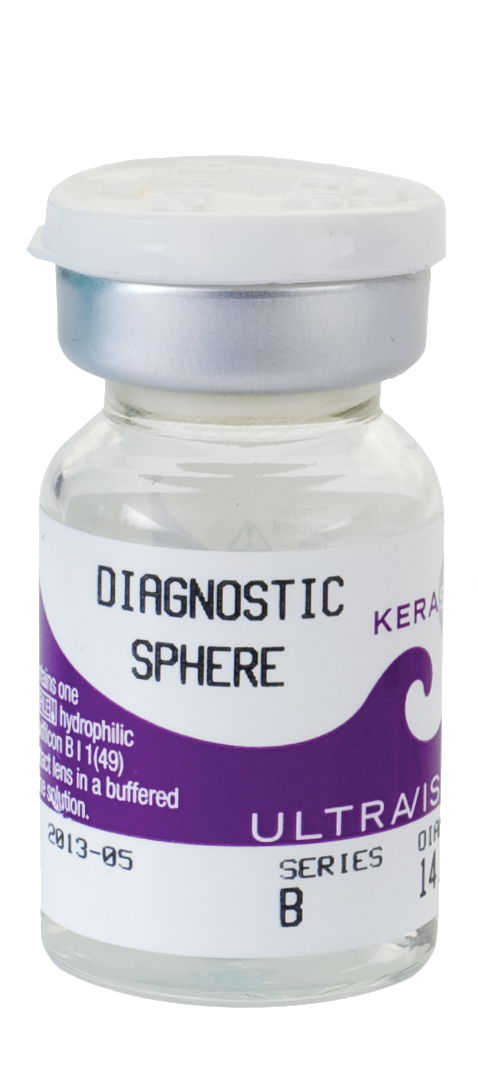 Trial  Set
The KeraSoft™ 2 trial set comprises 8 lenses of the following specification:
| | | | |
| --- | --- | --- | --- |
|   | BVP Range | Diameter | Series |
| 2 lenses | Plano | 14.50 | Series A |
| 2 lenses | Plano | 14.50 | Series B |
| 2 lenses | Plano | 14.50 | Series C |
| 2 lenses | Plano | 14.50 | Series D |
Approximate Keratometer Readings Guide

Diagnostic Lens Series

Recommended

Cone Advancement

Steeper than 6.20

A

Advanced

6.20 to 6.60

B

Moderate-Advanced

6.60 to 7.00

C

Moderate

7.00 to 7.40

D

Early
The KeraSoft™ 2 fitting is based on a principle of assessment  ,trial and adjustment.In the case of Keratoconus ,the progression of the condition should be assessed through the change in the astigmatic spectacle correction and the advancement of the cone. Keratometer readings can also be taken, although in cases of severe distortion, these can be of limited value when deciding which lens to select for initial trial.
The KeraSoft™ 2 is fitted using diagnostic lenses. The same trial set combination is suitable for fitting Keratoconus cases and post-Graft cases.
The trial lenses are provided in spherical form and should be used for all toric and spherical fittings.The practitioner follows the fitting steps outlined in this document, in which an assessment is made of the fit, and an over-refraction is obtained. The practitioner then simply places an order, stating the Series required, the overall diameter required, the power (BVP) of the diagnostic lens used, the over-refraction results and the back vertex distance (BVD) of the over refraction lenses. The Technical Services team will then calculate the required parameters.
KeraSoft™ 2 Lens technical specifications

Hioxifilcon B11.49% Water (non- ionic) with U.V. inhibitor

Material

Series A,B.C,D

Base Curve

14.00 mm , 14.50 mm , 15.00 mm

Diameter

Wavefront Aberration Control with balanced, optimum,

Overall thichness and a proprietary back-curve configuration

Lens Design

Sphere : +30.00DS to -30.00DS*

Cylinder:-0.50 to -11.00DC    (in 0.25 steps)

Axis:   0° to 180   (in 1° steps)

Prism  up to 2∆ D in any  axis

Add:   up to +3.00DS  (in 0.25 steps)

Power Range

 

 

Light  Blue

Handling Tint

15.00* 10⁻¹¹ (cm²/sec) [mlO₂/(ml * mmHg)]

DK

Durable Lens for daily wear use

Wear Modality

Single Vial

Pack  Size