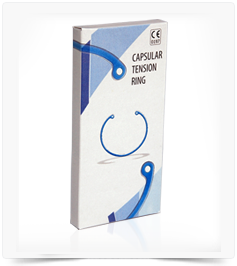 Tension Rings
A CTR is a 270 degree open PMMA ring placed in the capsular bag during cataract surgery in cases with zonular instability or weakness.
Product Features:
They made from Clinical Quality UV absorbing PMMA
Capsular tension rings (standard type)
Indications:
Stabilization of the crystalline lens capsule in the presence of weak or absent zonules.
Pseudoexfoliation (lead to lens capsular damage, most common in glaucoma)
Prior trauma which leads to Zonulysis( damage of zonules) or capsular rupture
Expected complications during phaco surgery.
Situations in which sudden unfolding of a foldable IOL might cause zonular breakage or dislocation of the IOL.
Repositioning of IOL decentration.
Marfan syndrome (results in subluxated lens with weak zonules)
Capsular Tension Ring (CTR)
CTR is an open-ended,flexible horseshoe-shaped polymethyl methacrylate (PMMA) filament with two eyelets at either end
Benefits:
It is used in cases involving less than 4 clock hours of zonular dialysis.
Ensures stable conditions during surgery
Prevents capsular fibrosis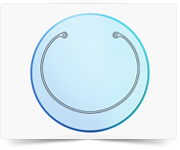 Overall Diameter

10.00 mm

11.00 mm

Closed Diameter

12.00 mm

13.00 mm